I have decided not to share Jonathan's team meeting today, instead talk about my beautiful girly girl. I really cannot believe that she is GIRLY! I didn't think it was genetically possible, but this little girl is all about shoes, dresses, now jewels and did I say shoes? We bought her some of those cheesy dress ups shoes for her birthday, you know the ones that have a little heel (which I am completely opposed to little girls wearing heels) and the princess faces on them. Well, she tried on every pair (there were four), decided she like the pink ones best, and screamed because I wouldn't let her wear them to bed. I am not looking forward to the day she wants to wear them outside of the house.
Here her brothers are helping her put them on.
In all her glory...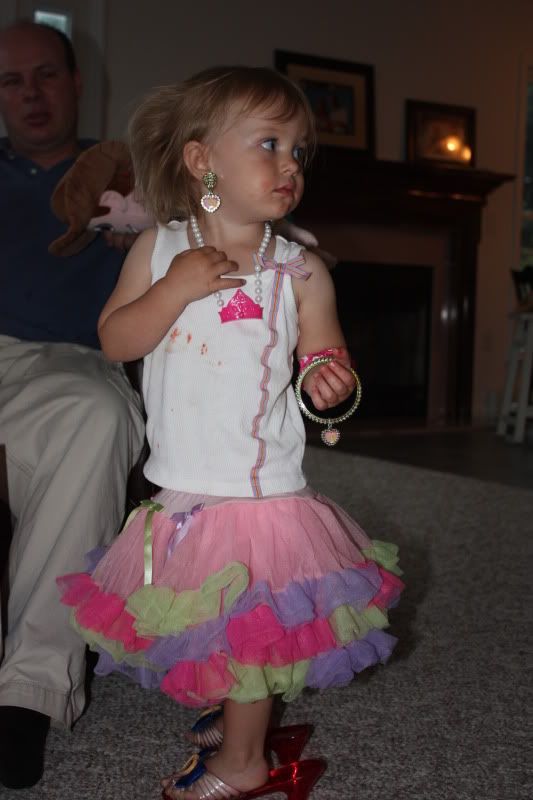 And waiting for cake...check the shoes!
I hope she stays girly. She does like dirt, mud, and cars. But she likes to be fashionable while playing...much more than I ever did!
AAAAAAAANNNNNNNNNNNDDDDDDDDDDDD both boys are riding 2-wheelers now. Jonathan was a bit afraid to take his training wheels off his bike (he is almost 8 for goodness sake!) even though he could actually ride without them as we tried. Jacob decided he didn't want his on anymore either, so of course Jonathan made sure he was out there one upping his brother. Nothing like a good bit of competition! I am so proud of them both! I think a bike might be in my future!